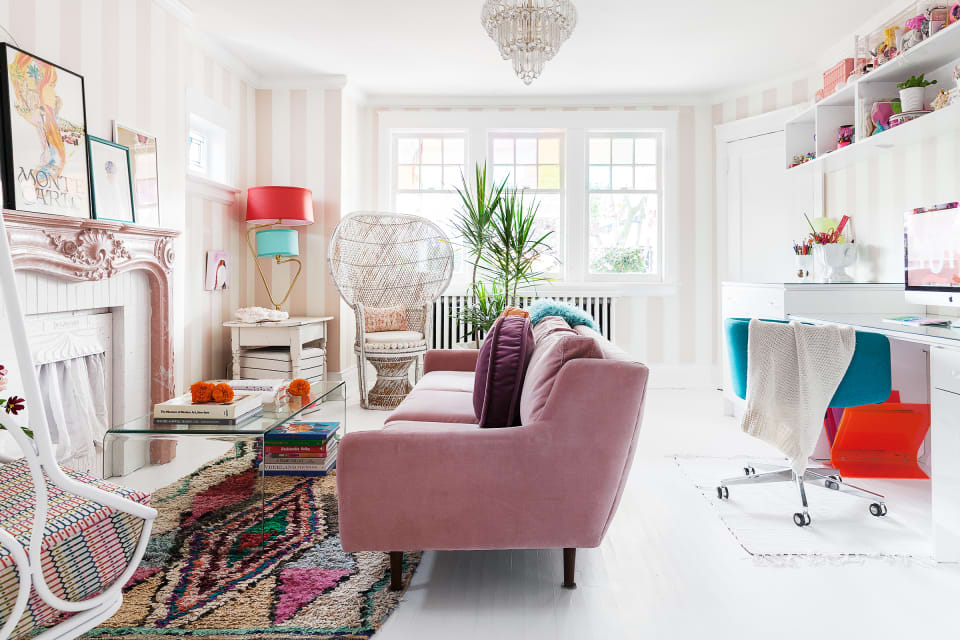 For the longest time in home design, velvet has been synonymous with luxury and opulence, and I'm not suggesting that's changed overnight. But when I spoke to interior designer Nicole Gibbons just before the holidays, she seemed to think that this once fancy pants material was starting to go mainstream, mainly because of advances in fabric technology.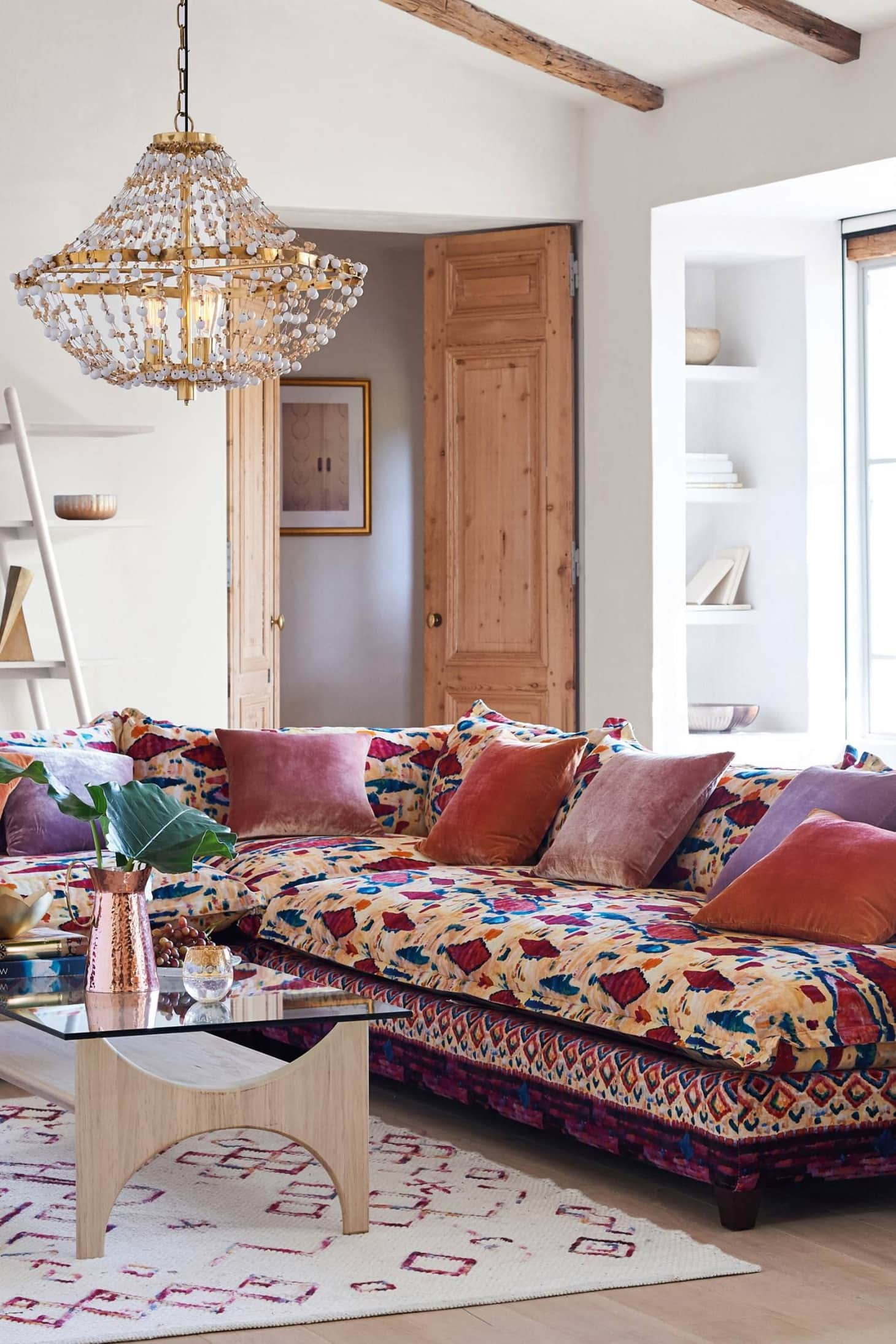 The velvets of yesteryear were easy to stain, on the stiffer side and available in limited colors—unless you wanted to go super-custom. But these days, you can walk into practically any West Elm, Pottery Barn or Crate & Barrel, let alone a fabric store, and find upholstery velvets and velvet accents that are soft and plush with a number of low-maintenance characteristics from machine-washable to fade-, stain- and abrasion-resistant. And design wise, they're just not stuffy anymore. They're not your parents' velvets, people, so trust me when I say, it might be time to seriously consider this material.

If you're at all hesitant to get your velvet on, we say start small with an accent, like throw pillows or a pouf. (Of course, if you're bold enough to have a sofa like the one above—the Medina-Printed Tassa Sectional from Anthropologie—we can't imagine you'd be shy with velvet.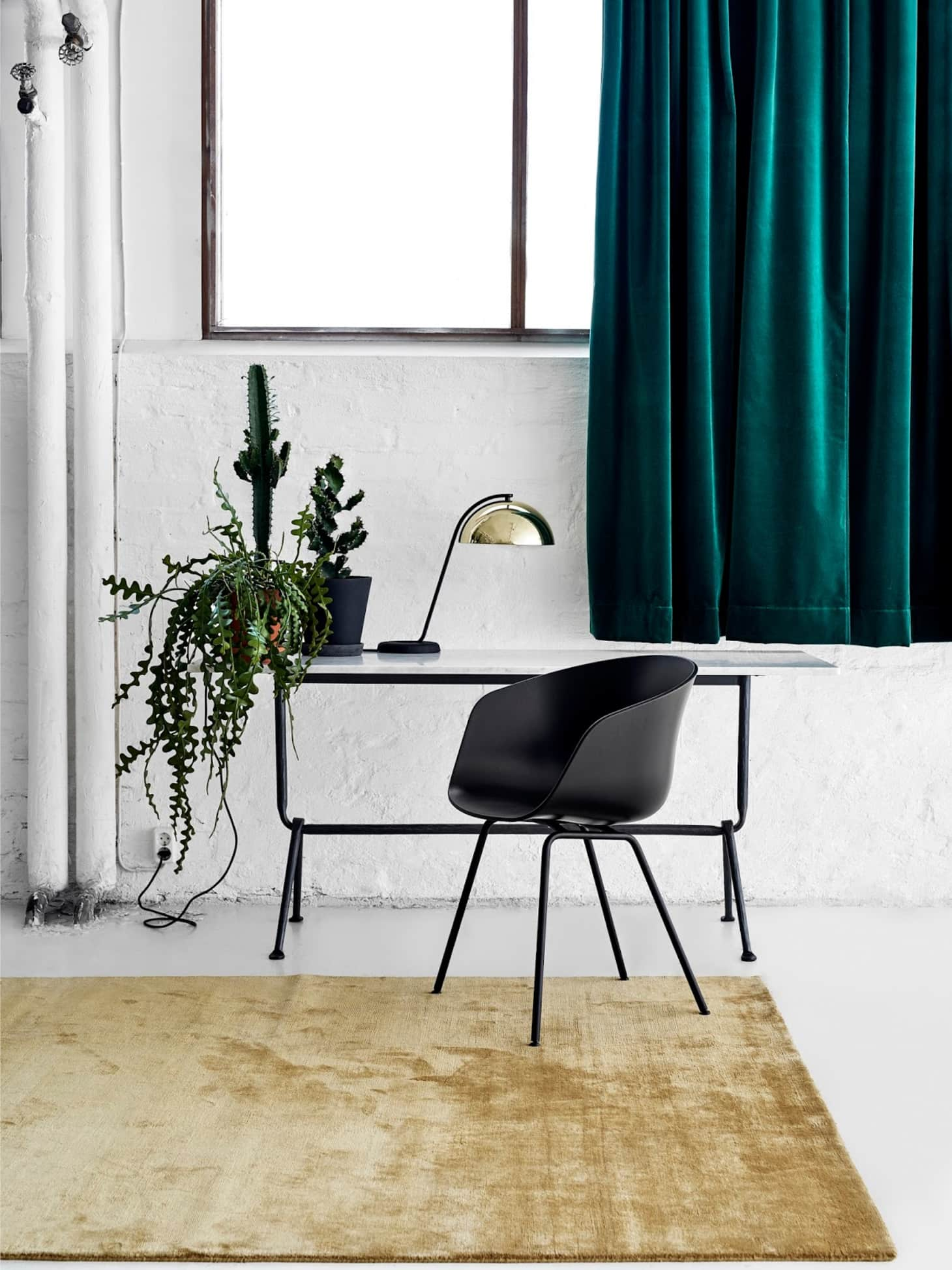 A larger application that might take a bit more of a commitment is a sofa (though we love it no less). The textile works so well no matter what silhouette you're dealing with. It feels appropriate with a traditional shape or tufting, but also jazzes up a more streamlined modern frame. If you're afraid of your room looking too heavy or wintry, go with a pretty blush, light gray or even a jewel tone. You can also go velvet on a big side chair, too.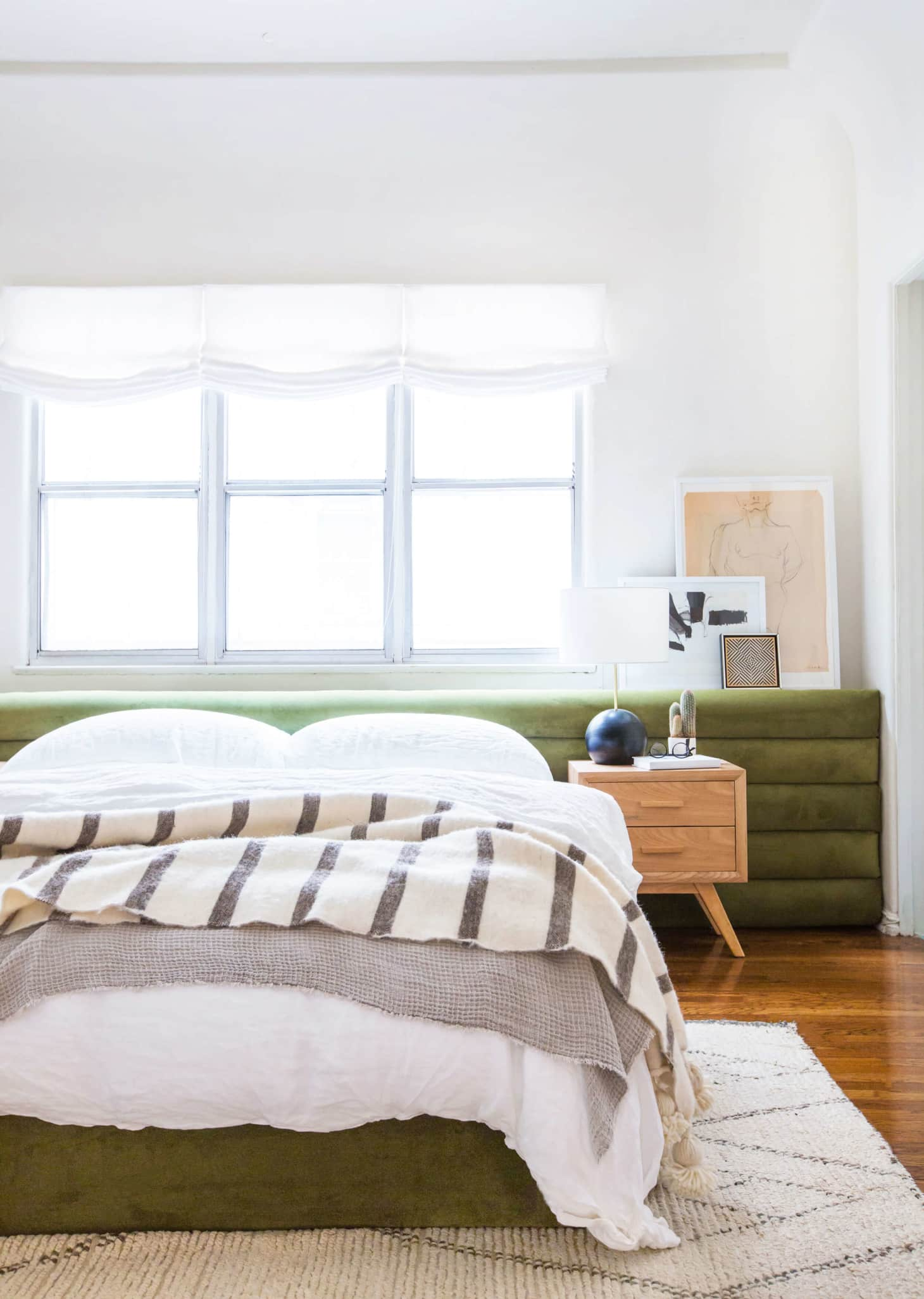 You'd think velvet curtains would look all baroque and dramatic, but again, depending on the colorway and application, that's not always the case. Choose something simple and tassel-free to keep velvet drapes from looking dated, and mix the textile with simple and modern forms like in this shot from Weekday Carnival for a super fresh aesthetic.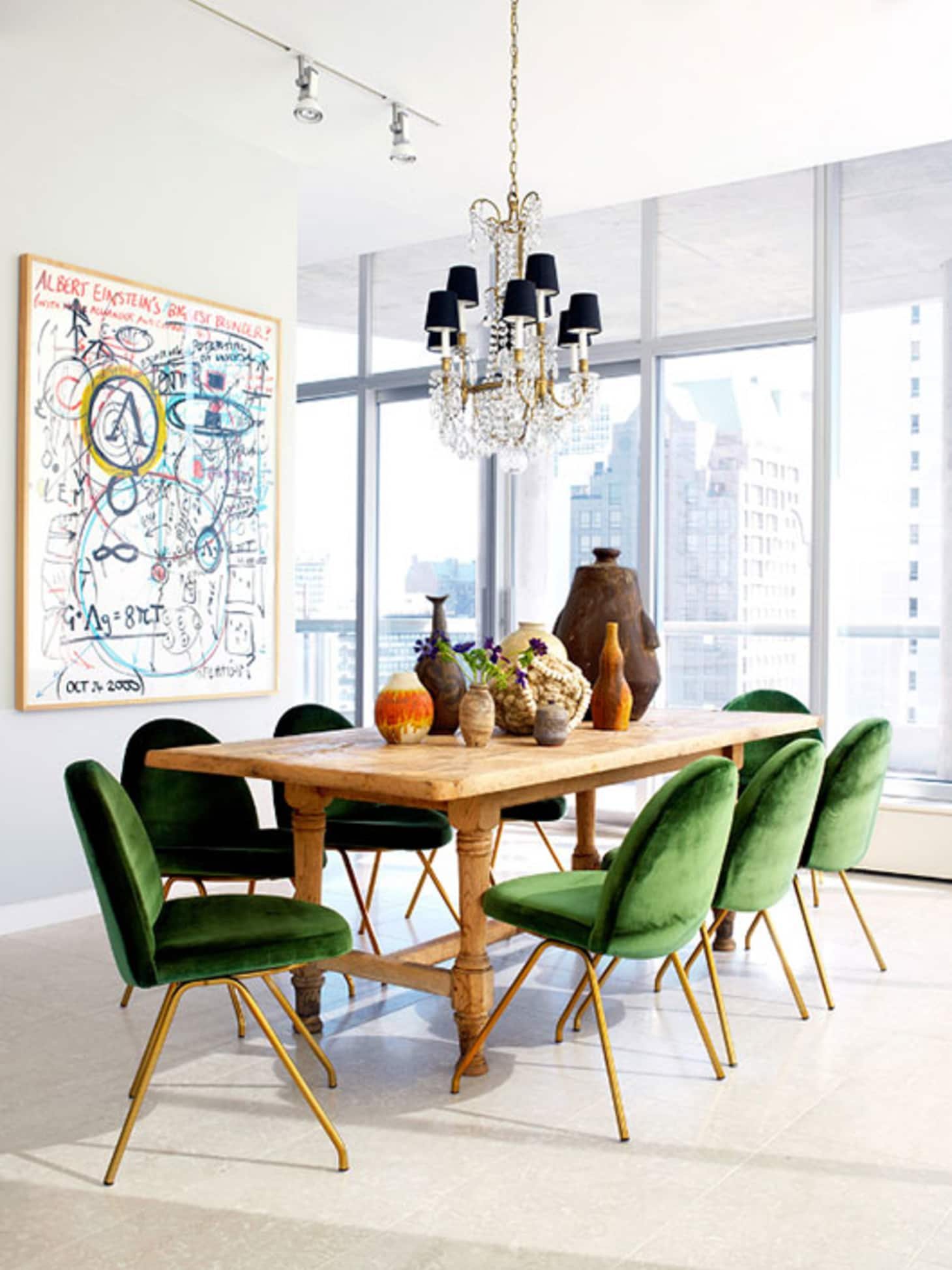 Headboards are getting bigger, it seems, and starting to take over entire walls (though we're not mad at the trend). You can't argue with this velvet bed set up in the home of Brady Tolbert, Editorial Director of Emily Henderson Design. This looks like a super soft and supportive place for reading and relaxing. Plus, it was totally DIY!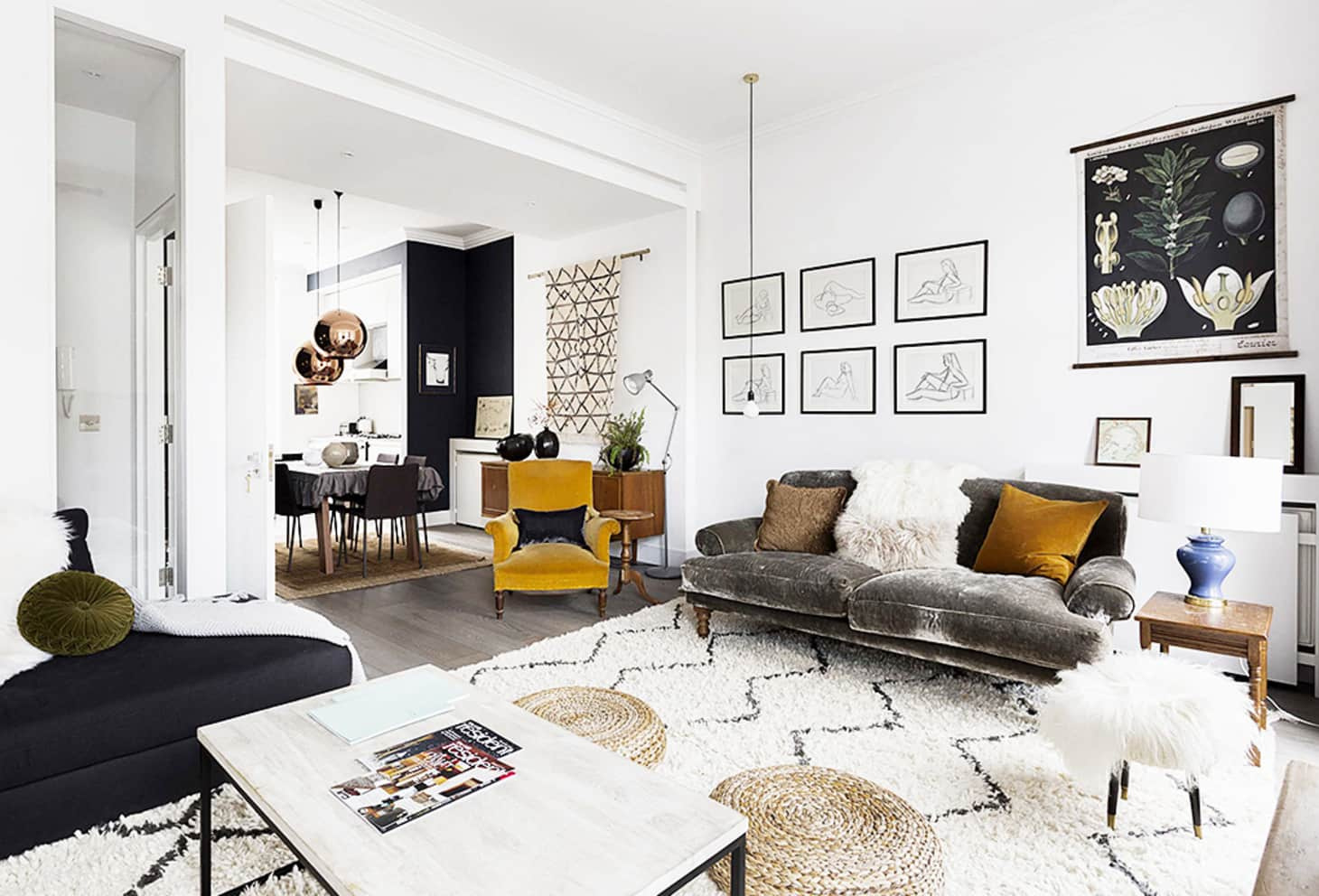 If you're known to host dinner parties, check out performance velvet chair options for your dining room or eating nook. Velvet is very versatile here, because it can be treated to resist staining and looks good whether you want a more formal, traditional wood-leg chair or something funkier with brass or metal legs. Also of note from the above photo (a design by Nate Berkus we found via SF Girl by Bay): pair this luxe fabric with humbler materials like timeworn wood and ceramics for a nice visual balance that doesn't read ultra glam.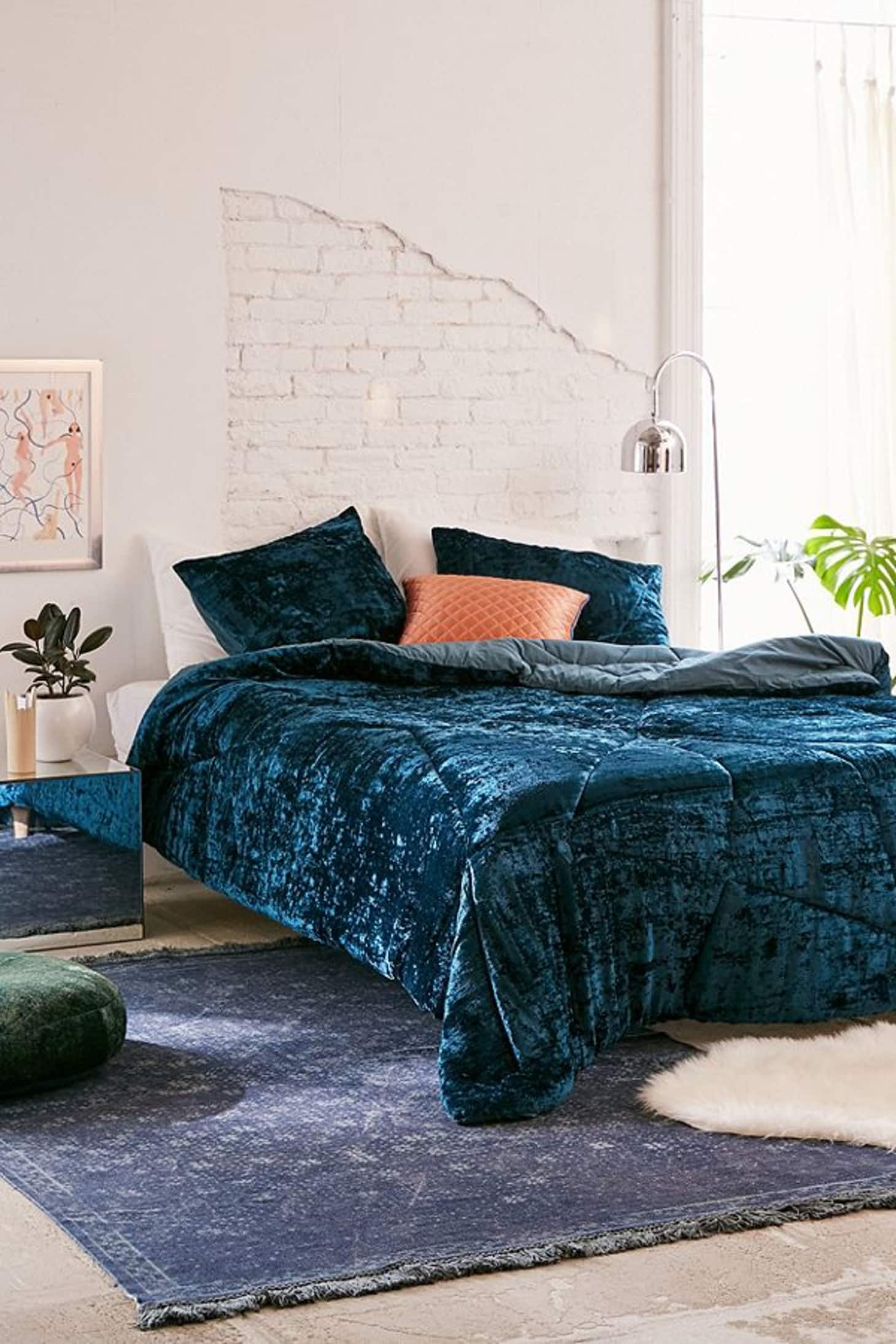 And, this personal favorite, velvet on velvet, which is basically a luxe version of the Canadian tuxedo, makes me think this trend really is on a meteoric rise. I think this combo works for a sofa and pillows, but I'd say steer clear of an all-velvet furniture scheme. Different textures and finishes are what give a room dimension. Here, in a London rental available to book on One Fine Stay, you have a velvet sofa, velvet pillows and a what appears to be a mustard velvet chair. But there are still other pieces—a fur stool, braided jute poufs—in the mix.
If you're feeling late '60s (or early '90s!) style, you might like crushed velvet for even more texture, like this bedding from Urban Outfitters. Best to rock this version of the trend on textiles or smaller pieces of furniture versus investment pieces like sofas or chairs, unless you are fully on-board with the boho trend.
Whatapps (+65 90305057 , Vince ) you can speak directly to us or email: info(at)centrepiece.com.sg to discuss your order. We don't have call centres or customer service departments, you speak directly to the people making your sofa.
Looking for rattan furnitre or reupholstery to change the look of your home? We will be able to assist you.
Shop @: Centrepiece Lazada
Find sales/clear stock @ : Carousell
Stay Connected
Contact www.centrepiece.com.sg or email: info(at)centrepiece.com.sg
Note: If you are a new customer, and you need the upholster to do home visit, a SGD $40 will apply. This is to prevent people who are not serious in getting upholstery services from driving the business cost up. This helps to cut wasted time and expenses in order to benefit our existing customers. However, this SGD $40 can be reimbursed if the job is confirmed upon deposit. For existing customers, fees may be waived. Cheers ?